Company Profile (letter from the chairman & CEO)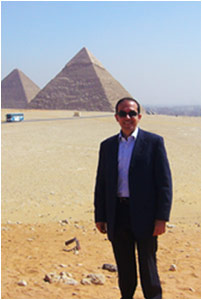 I am a citizen of both Egypt and Australia and have worked over 32 years in the travel industry in both countries. I feel this puts me in the fortunate position of truly understanding both the Western and Middle Eastern cultures. I understand what our clients want from a holiday - the experiences they enjoy, the service they seek and the attention to detail required to create a holiday of a lifetime.
Our impeccable attention to detail, rigid quality control standards, and our highly trained staff ensure that every trip with Egypt & Beyond is smooth, trouble free, unforgettable and full of wonder. The secret of our unparalleled service is in our attention to detail, insider access to some sites the normal traveller will not get to see & the subtle extras which ensure your comfort and safety.
Why Egypt & Beyond ?
Egypt & Beyond was the proud partner with the Legendary Rick Steves (www.ricksteves.com) filming 1hr Egypt TV special and I myself was very lucky to co-star with Rick Steves in Cairo & Alexandria starting from the minute 18 in this TV show.
full show in this link:
https://www.youtube.com/watch?v=Ga1_2Zy5__s
You can also log into Rick Steves Facebook page to watch behind the scenes making of this show where Rick Steves clearly recommends Egypt & Beyond as your trusted company if you are planning to visit Egypt!
links for behind the scenes of this great Egypt TV show:
Part 1 https://www.facebook.com/ricksteves/videos/378143253253892/
Part 2 https://www.facebook.com/ricksteves/videos/508872110030501/
At Egypt and Beyond, we base our business on quality service, quality product selection and lots of personal touches.
All Egypt & Beyond staff are well trained to exceed our client expectations and will do everything in their power to guarantee that clients return home completely satisfied with their time spent with Egypt & Beyond Travel.
Tarek Mousa
Chairman & CEO